History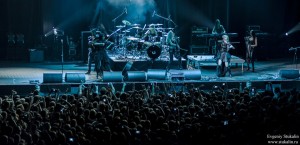 The day of Symfomania's first concert, June 24, 2004, is considered to be its birthday. Originally, it was a string quartet founded by the students of Tchaikovsky National Academy of Music. The repertoire consisted of classical compositions and popular tunes performed in the band's own transcription. At that time the band was called "Empire". This name precisely transfused the style and temper of music.
The band members did the musical arrangements, sewed the costumes, recorded the tracks at their home studio, created new compositions, which were number one priority. The new compositions required certain arrangement. It was the period of search of a new image, unique execution, and distinguishing style in music.
As far as the band was in progress, it became obvious that the digital arrangement kept the performers within the bounds; it limited the possibility of improvisation. With the advent of a keyboard player and a drummer in 2005 the bounds were broken. It gave new opportunities. From the very first rehearsals with the new band members, a complex but really fascinating creative period started. As the result, the music became more dynamic and expressive due to the combination of strings' symphonism, and keyboard and drums' drive.
In 2008 the band took its new name "Symfomania", and in 2009 it released the first album called "Empire". The album consisted of the most valuable material acquired during all five years.
Today, Symfomania has got a solid technical equipment which helps to realize the most unbelievable creative ideas. Exclusive instruments, radio and personal monitoring systems facilitate excellent performing. Combined with the everlasting process of self-growth, it makes Symfomania's shows extremely professional and exciting. The performances inspire with their energy, dynamics and expressiveness.
Since its foundation, the band has been successfully performing at numerous musical festivals and concerts, auto shows and moto shows. Moreover, Symfomania performed at Marrakech F2 Grand Prix 2010 grand opening, "Cheval Passion 2013" in Avignon France.
On December, 20, 2010, the band released its second album "Aria" based on the famous Russian rock-band Aria covers.